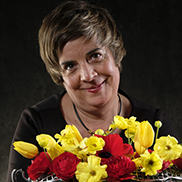 Lírio Decorations
Bringing fragrances and colour to Porto since 1995
We use flowers to celebrate young love and old love, the special days that break up our routines, the birth of life and the passing of life, our successes along the way, we use flowers to say goodbye and when we meet again.
Flowers say everything, when words are not enough, or when we say too much.
At Lírio we live with flowers and for flowers. At Lírio we oversee the events that are your celebrations. From the start, we create the concept and take full charge of the event, so that you can relax and just enjoy the moment.
Management
Filomena Pires
FREE carriage for deliveries in the city of Porto, Vila Nova de Gaia and Matosinhos